For speed optimization of your
W

o

r

d

P

r

e

s

s

website!

Contact us for a FREE speed audit!

BASIC

$700
Premium license for WP Rocket and Perfmatters included
Image optimization
JavaScript and CSS optimization
Optimizing fonts
Preload/prefetch correct ordering
Implementing proper lazy loading
Web host server optimization
Removing excess code
Two weeks after project support
2 days of work max
CDN configuration
Thorough after-project documentation
Database optimization
Additional support period
MOST POPULAR
STANDARD
$1000
Premium license for WP Rocket and Perfmatters included
Image optimization
JavaScript and CSS optimization
Optimizing fonts
Preload/prefetch correct ordering
Implementing proper lazy loading
Web host server optimization
Removing excess code
One month after project support
CDN configuration
Thorough after-project documentation
3 days of work max
Database optimization
Additional support period
BEST VALUE
PRO
$1600
Premium license for WP Rocket and Perfmatters included
Image optimization
JavaScript and CSS optimization
Optimizing fonts
Preload/prefetch correct ordering
Implementing proper lazy loading
Web host server optimization
Removing excess code
2 months after project support
CDN configuration
Thorough after-project documentation
Database optimization
Additional support period
5 days of work max
Perfmatters and WP Rocket for free
Drawing from our extensive experience, we've observed that most clients' websites attain peak performance with the premium plugin combination of Perfmatters and WP Rocket.
If we determine that your website could benefit from these top-tier plugins, we are prepared to extend our unlimited licenses for them, eliminating any additional expenses for you.
These plugins, currently valued at $85 per year, are included in our service package at no extra cost to you. No matter which WordPress speed optimization package you choose, you are eligible to receive them.
We understand the importance of a 'less is more' approach when it comes to plugins for optimal performance. However, you should recognize the fact that your website benefits from a carefully selected few, enhancing its efficiency.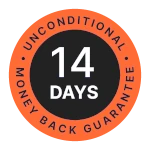 100% money-back guarantee
Your satisfaction is our top priority. If, for any reason, WPservice does not meet your expectations, allow us to revert all the improvements we made, and we will issue a refund.
This offer is valid within 14 days after the project's completion.
FAQ
-After ordering, if you haven't already, please fill out the Order details form.
Do you improve speed on other websites besides the WordPress.org CMS?
No, we specialize solely in the WordPress.org CMS platform. That's why we are so good at it.
Can you improve the PageSpeed Insights speed score to 100 for mobile test? And if not, how fast will my website be after the speed optimization?
That's an unrealistic goal, reaching 90+ on the PSI mobile test is unlikely for most of the websites. The end result depends on your website, your web host server, CDN, and our improvement work. We work in a way that your website functionality or design remains unchanged after the improvements. Our approach yields the best performance results while not creating any errors.
Please reach out for a free speed analysis for the estimation of the end result.
I haven't received a confirmation for ordering. How can I find out my order #?
Please check your spam e-mail folder. If the e-mail does not arrive in a reasonable time, contact us about it.
Do you offer a guarantee on your work?
All plans come with a two-week (minimum on Basic) guarantee on our work. If our improvements caused some error or loss of functionality – we'll fix it ASAP at no additional cost to you.
Is your initial speed audit free?
All plans include a FREE speed audit and testing of website functionality after the optimization.
Is your work lasting, or would the website slow down after a while?
Any optimizations we conduct are lasting. That being said, if you change the content by adding unoptimized images, or you add some new plugins, it's possible that over time the speed will deteriorate over time. If you edit your website often and would like to have it fast all the time, check our maintenance plans.
Do you use 'black hat' techniques?
No. Our work is pure 'white hat', and it will not hurt your SERP (SEO) in any way. Quite the opposite.
Do you use plugins for your work?
We understand that a minimum number of plugins is the way to go. That being said, for maximum efficiency, we use a mixture of plugins and code to improve your website.
So, we will use the minimum number of plugins, to achieve maximum possible results. Two top-tier premium plugins we prefer to use are Perfmatters and WP Rocket, and if your website can benefit from them, we'll implement them for you at no extra cost.
My website is unusal, very large, or riddled with errors. Can you still improve its speed?
Certainly, if you have a database-heavy website or existing errors – please contact us about it for a personalized offer before ordering.
I have a number of websites ready for speed optimization, do you offer a bulk discount?
We can work something out, please contact us for a customized offer.
Testimonials
Wordpress WooCommerce Shop Maintenance
Dalibor works very structured. He informed me in advance about the obstacles and possibilities regarding my expectations and did not simply work towards them. So I went into this job with realistic expectations. Dalibor has a very friendly and respectful manner and treated my existing online store accordingly. He was always available and explained things to me that I had no idea about and he also pointed out possible security gaps for which I am very grateful. Dalibor has optimized my site from the ground up and spared no effort and work. His work is well-founded and holistic in its approach.
Marie Galinsky-Schild